Our Plastic Products
Contact Details
Alternative Plastics Ltd
Unit 1 Buckingham Close
Bermuda Industrial Estate
Nuneaton
Warwickshire
CV10 7JT
Tel: 02476 641210
Fax: 02476 326156
Alternatively:
E-mail Us Here
Why Acrylics?
The full name for acrylic is polymethylmethacrylate & we sell it in cast or extruded forms of block, sheet, rod, tube, profiles and injection moulded fabrication aids.
We can supply orders of just one tiny piece for fabrication, through to massive single cast blocks weighing over 6 tons for architectural projects.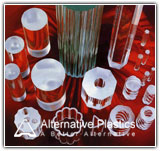 Acrylic is very easy to fabricate using modern & traditional machining techniques.
It is easily cut, machined, polished, glued, bonded into larger panels or lengths and can be thermoformed and injection moulded. We can offer advice and supply data sheets if required.
Where is it used?
Acrylic is used in many areas such as point of sale displays, the aquarium industry, engineering, art & design, television & film, nuclear & medical industries, architecture & signage to name just a few.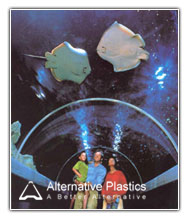 Characteristics
Acrylic offers great optical clarity, good impact strength and has outstanding weathering properties.
Case Studies

In March 07 we delivered 11 tons of acrylic for 92 free standing & wall mounted directional signs for a new wayfinding system at Selfridges, for their Oxford Street store.
More...

As part of a Sheffield City refurbishment scheme, we were asked to structurally bond eight massive acrylic beams 5400mm long and 150mm thick, in the town hall square.
More...